Study Judaism in Israel as Christians and implement what you have learned and experienced in your own country.
"Studium in Israel" is committed to a theology and church practice that perceives Judaism in its diversity, allowing the Jewish community to determine their own self-understanding. For a long time, Christian doctrine and church attitude towards Judaism was defined by demarcation and prejudice. After the Shoa a gradual rethinking began.
This rethinking continues today and aims to establish a theology that is sensitive to Judaism and critical of anti-Semitism at all levels of church activity. This also includes a rejection of mission to the Jews. "Studium in Israel" was founded in 1978 offering students of theology and related subjects the opportunity to live in Jerusalem for a year, to study at the Hebrew University and to get to know the diversity of Judaism in Israeli society.
In its almost 50 years of existence, the program has evolved and now also offers opportunities for learning and encounters in the context of student excursions to Israel and for professionals in theology and the church. Former participants of the program shape the Christian-Jewish dialogue in Israel and Germany. Through conferences and publications, the organization "Studium in Israel e.V." promotes theological discussion and church practice in the German-speaking world. Those who study in Jerusalem with "Studium in Israel" gain perspective on both, Judaism and their own Christian religion.
Our Programs of Study

תוכניות
"Studium in Israel" offers three different programs for studying in Jerusalem:
Katinka Billau
Pastor in Karlsruhe
Year 34 (2011/12)
"A Key to the Treasures of Judaism"
Through "Studium in Israel" I immersed myself in foreign worlds. I stayed with a Jewish host family for one year, with whom I still feel at home today. I found Palestinian and other international friends. The intensive study year in Jerusalem gave me a key to the treasures of Judaism and its people, for which I am very grateful, especially as a German.
Christian Stäblein
Bishop of the EKBO
Year 14 (1991/92)
"Lively Relationship with Judaism"
Everything changed for me through my studies in Israel. I understood and felt that Christian faith cannot be expressed or conceived of without a living relationship with Judaism. Feeling at home in Hebrew is also something wonderful. For the church and its leadership, perceiving, appreciating, encountering and relating with living Judaism in all its diversity, with Jews, is fundamental. Church cannot be otherwise.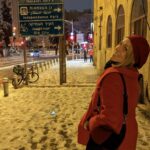 Helene Begrich
Theology student in Berlin
Year 44 (2021/22)
"A Program for Everyone!"
For anyone? Well, at least for those who don't want to miss the unique opportunity to live in Jerusalem for a whole year, to learn to speak Hebrew fluently and to gain profound knowledge in the field of Jewish studies and much more. I still feel very inspired by the skills and experiences I learned during the year and I am happy to be able to contribute to the Jewish-Christian dialogue.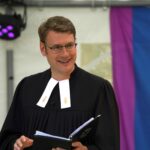 Jens Wening
Pastor in Laatzen
Year 28 (2005/06)
"New Perspectives on the Bible"
My year with "Studium in Israel" opened up the Bible to me in a new way: The highest meticulousness in textual observation goes hand in hand in Judaism with surprisingly imaginative biblical interpretations. In this way, something new always emerges in well-known stories. In 2005/2006, I experienced this hermeneutical change of course - still today it enlivens my own faith practice as well as my handling of biblical texts in the pastorate.
Stefanie Henger
Pastor in Kornwestheim
Advanced Training
in Year 42 (2019/20)
"A Wonderful Experience"
It was very rewarding for me to participate in the Advanced Training program of "Studium in Israel". During my visit I got to know other participants of the program and was able to be part of excursions and lectures. I experienced so much and met a wide variety of people. It was a wonderful experience in a fascinating country that left me with more questions than before. I hope to return one day for a longer period of time.
Marianne Grohmann
Professor of Old Testament in Vienna
Year 15 (1992/93)
"A Formative Year in a Fascinating City "
In my year of study in Jerusalem I have learned, lived and believed more intensively than ever before or since. The diversity of people, religions and cultures in Jerusalem is fascinating and impressive. This has had a decisive influence on my further career. To this day, talking to Jews and dealing with Jewish exegesis in literary form is an important part of my work as a biblical scholar.